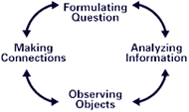 Smithsonian educators recommend an inquiry-based approach that can be used in any museum. The inquiry process is a way of encouraging students to question, explore, and discover. As the diagram illustrates, the steps are not sequential. Instead, you may start at any point and move in any direction. What's important is to remain focused on questions. No matter how you explore a topic, you will find that one question leads to another, and all of them lead to a better understanding of what you are studying.

On-site Handouts
The questions on the handout are basic. You can use them in any kind of museum, whether art, history or science, or at a historic house, nature center or zoo.

"Object Observer," employs the 4-step inquiry process to look closely at one object.

"The Exhibit, the Object, and You" is for use in an exhibition.

The Discussion Guide suggests questions to use before, while, and after viewing the museum exhibition.