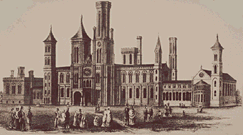 The learning possibilities that museums offer are myriad, especially at the Smithsonian, which this year celebrates its 150th birthday. Now the world's largest museum complex and research center, the Institution began as the bequest of an English scientist, James Smithson. In his will of 1827, he wrote that, upon his death, his estate should go to the United States to found an "establishment for the increase and diffusion of knowledge." An act of Congress established the Smithsonian in 1846.

This year, the Smithsonian commemorates the first century and a half of its existence through an unprecedented traveling exhibition, America's Smithsonian. The exhibition will offer people across the country the unique experience of seeing right in their own communities some of the treasures that bring our history and culture alive.

In that spirit, this lesson plan celebrates museum-based learning through the study of some of the objects in the exhibition. The lessons and activities in this website will help your students develop observation and reasoning skills through a close look at objects. These exercises may help your students understand why the Smithsonian Institution is sometimes called the nation's treasure house. And by thinking about what they themselves collect, students may understand the unique storytelling power of objects.
---
educate@si.edu