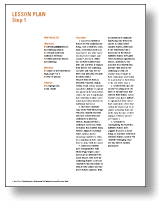 Click on the icon for Lesson 2 in Adobe Acrobat Format (160K).
Includes Activity Pages.

---
LEARNING THROUGH OBJECTS

Objectives
Observe and describe selected objects from America's Smithsonian.
Match written descriptions with visual images.
Use objects as the basis for creative writing.

Materials

Subjects
Social studies, science, language arts

Procedure

1. Ask your students if they have visited places where people display collections of objects (e.g., a school science fair, a trophy case, or an antique car show). Ask them to describe what they saw and learned from the displays.

2. Find out if any of your students have ever visited a museum. If so, what objects do they remember most from their visits? Tell them that museums care for and display objects so that people can enjoy and learn from them. Museums can be as small as a gallery of objects or big enough to hold thousands of visitors at one time.

3. Tell your students that museums bring history, culture, and science alive by collecting and displaying objects that teach us about the past, move us with their beauty, and help us understand the physical world.

4. Divide the children among groups of three or four and give each team a copy of the object photographs on pages 10 and 13. Tell them that the mystery objects they are looking at are from America's Smithsonian, a traveling exhibition commemorating the 150th birthday of the Smithsonian Institution.

5. Give each group a copy of the mystery object descriptions on pages 11 and 12, cut out and individually pasted onto note cards to make them durable. Tell students to read quietly all ten of the descriptions and then to look at the objects again. After everyone has finished reading the note cards, have each team work together to match each object with its description. Tell students to write the number of each object on the note card that they think best describes it. (Be sure to tell students that there are two extra descriptions of objects that are not shown.) As a class, confirm the students' reactions to the objects. [Key: Description A is object 6; B is 3; C is not shown; D is not shown; E is 2; F is 1; G is 5; H is 7; I is 8; J is 4.]

6. Extend this activity with one or more of the following writing projects.

Have each child choose one of the eight objects. Make photocopies of the objects, hand them out with blank paper, and have students create picture postcards. Have them write out their card, telling someone about the object and why the writer thought the recipient would enjoy seeing it.

Visit a museum in your area and find postcards of the collections. Have students write out the cards to each other or friends, describing the objects and why they like them.

Using cameras or sketchbooks, have students create cards depicting objects from their personal collections. Have them write descriptions or labels for the objects.

Have the class come up with its own group of treasures like the ones in this issue of this lesson plan. They could organize the objects under themes such as "community," "school," "family," or "our class." Have them write labels or descriptions and set up the display in the classroom or some other part of the school.