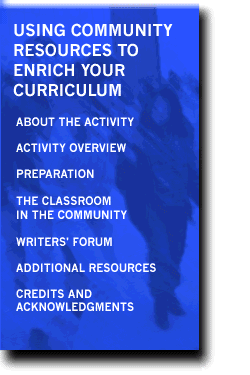 Preparation
Think of your community as a big museum. The old buildings, artifacts, statues, and monuments nearby, like the objects and exhibitions in real museums, offer primary-source information about history and culture. By using these and other "hidden" community resources as a foundation for new activities, you can help make your community come alive for students.
But you need not limit yourself to motivating students with those community treasures that are steeped in the distant past or that represent culture at its most refined. The present and popular culture that "speaks" to students may be the most effective motivator of all.
The Classroom in the Community section has suggestions of ways in which you can inspire student writing by making the most of what your community has to offer. No doubt you'll think of other ideas, too, ideas that take advantage of the unique attributes of your neighborhood, school, and other local resources. We wish you good luck and encourage you to share your ideas with us by using the feedback link below (type "Community Resources" in the subject line). We'd love to hear from you.


Last Modified September 19, 1997
educate@si.edu