For centuries, rebozos were an indispensable item of clothing for Mexican women of all social classes. They continue to be used today, especially by women in rural areas.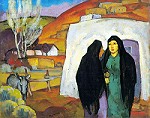 This painting of a northern New Mexico town shows two women wearing rebozos draped over their heads and shoulders.
Josiah Gregg, writing in the early 19th century about New Mexico, captured the importance of rebozos in the daily attire of women there:
The finest articles are valued at fifty to a hundred dollars in the North; but the ordinary cotton rebozo ranges at from one to five dollars, and is generally worn by the lower classes. A Mexican female is scarcely ever seen without her rebozo or shawl, except when it is laid aside for the dance. In-doors, it is loosely thrown about her person, but in the promenade it is coquettishly drawn over the head, and one end of it brought round, and gracefully hooked over the opposite shoulder ... a lady fashionably muffled with a rebozo may pass a crowd of familiar acquaintances without being recognized.
Top: The Gossip, ca. 1922, William Penhallow Henderson. Smithsonian American Art Museum, cat. no. 1991.205.10