Athletes
As the popularity of the Olympics, Superbowl Weekend, the World Series and Wimbledon demonstrate, Americans are devoted sports fans. This devotion has imprinted itself in popular culture, artwork, even household items found in our society. The America's Smithsonian 150th Anniversary exhibition: American Pastimes: Entertainment shows how the Smithsonian's sports collections preserve objects representing sport on all levels--the ordinary and extraordinary athlete, as well as sports fans and workers. Below are featured spectacular American athletes.
James Francis ("Jim") Thorpe (1888-1953)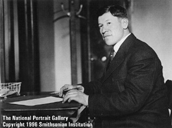 Underwood and Underwood (1882-circa 1950)
Photograph, gelatin silver print, circa 1913, NPG.80.327
National Portrait Gallery,
Smithsonian Institution, Washington, D.C.

In 1950, Jim Thorpe was named the greatest football player and the greatest male athlete of the first half of the twentieth century, by an Associated Press poll of nearly four-hundred sportswriters. Thorpe excelled not only in collegiate and professional football, but in baseball, track, and a number of other sports. However, his brilliant career as an athlete was punctuated by tragedy and disappointment off the field.
Thorpe was born in Indian Territory (now Oklahoma) to parents of mixed European and Native American heritage. Glenn S. "Pop" Warner, coach at Pennsylvania's Carlisle Indian Industrial School, where Thorpe became a student at age sixteen, was the first to recognize the young man's natural athletic ability. Though Thorpe primarily concentrated on track and field, he created a sensation on the football field when, as an emergency substitute halfback for Carlisle, he ran two touchdowns in an upset victory over rival University of Pennsylvania.
In 1909, Thorpe left Carlisle to play semiprofessional baseball in the Carolina League, a decision that would have grave implications later on. Upon Warner's urging, Thorpe returned to Carlisle in 1911 to play football and prepare for the 1912 Olympic games as a track and field contestant. He performed flawlessly at the games, earning a gold medal in both the pentathlon and the decathlon, which together include the broad jump, high jump, pole vault, javelin throw, shot put, discus throw, 100- and 200-meter dash, 100-meter high hurdles, and 400-meter and 1,500-meter run. His performance inspired the King Gustav V of Sweden, host of the games, to call him "the greatest athlete in the world." The biggest blow of Thorpe's life came in 1913, when the Amateur Athletic Union revoked his Olympic medals upon learning of his stint as a paid baseball player. Efforts to reinstate his Olympic record did not succeed until 1982, when the International Olympic Committee presented replicas of the original medals to one of Thorpe's daughters.
After leaving Carlisle, Thorpe combined careers in professional football and baseball. Thorpe emerged from six major-league seasons with a respectable .252 batting average. Meanwhile, in 1915, Thorpe became the first football player to sign a season contract with a professional team, the Canton Bulldogs. In 1920, he helped found and promote the American Professional Football Association, later the National Football League. Thorpe played on several teams until his retirement in 1929.
After Thorpe retired from athletics, alcoholism and emotional instability severely hindered his attempts to find a new career. His efforts as a Hollywood actor, lecturer, and Indian activist all met with limited success. Thorpe's athletic achievements were memorialized in a 1950 film, Jim Thorpe: All-American, and today he is still remembered as one of this century's greatest competitors.
Helen Wills Moody (1905-1998)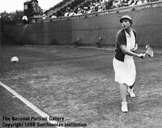 Unidentified photographer
Photograph, gelatin silver print, 1933, T/NPG.93.349
National Portrait Gallery,
Smithsonian Institution, Washington, D.C.

On the tennis court, she was known as "Little Miss Poker-Face" for her stoic, emotionless presence during tennis matches. Her cool, steady temper and her strong defensive game made Helen Wills perhaps the most powerful female tennis player of her time.
A native of Berkeley, California, Wills began playing tennis at age fourteen. After winning her first junior tournament at age fifteen in 1920, Wills went on to win national girls' singles and doubles championship titles in 1921. Wills competed in the women's division thereafter and finished second in the United States women's singles tournament and first in the doubles national tournament in 1922. In 1923, Wills won her first United States Open singles title and found herself at the top of American women's tennis. By the end of her career she had won the national singles title seven times (1923-1925, 1927-1929, 1931), the Wimbledon singles title eight times (1927-1930, 1932-1933, 1935, 1938) and the French singles championship title four times (1928-1930, 1932). She also won the United States and Wimbledon doubles tournaments three times each, the French doubles crown twice and represented the United States in the 1924 Paris Olympics, where she took gold medals for women's singles and doubles.
In addition to being nearly unbeatable, Wills led the way in shedding the long, cumbersome skirts and petticoats that female tennis players were once expected to wear. In 1927, she scandalized many when she showed up at a tournament in England without long stockings. Her trademark white, knee-length pleated skirt, seen in this photograph from the collections of the National Portrait Gallery, served as an important transition to the tennis shorts that became acceptable in the 1930s.
Wills graduated from the University of California in 1928 with a degree in fine arts. She was married twice, first to Frederick Moody in 1929 and then to Aidan Roark in 1939. Off the court, her professional pursuits included painting and magazine illustration. She also took up writing, and after publishing her memoirs, Fifteen-Thirty; in 1937, she wrote several novels including one about tennis, entitled Death Serves an Ace. In 1959, she was admitted to the International Tennis Hall of Fame.
Gertrude Ederle (born 1906)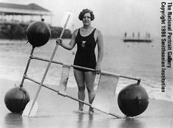 Underwood and Underwood (1882-circa 1950)
Photograph, gelatin silver print, 1925, T/NPG.80.230
National Portrait Gallery,
Smithsonian Institution, Washington, D.C.

On the morning of August 6, 1926, Gertrude Ederle stepped into the bone-chilling waters of the English Channel at Cap Gris-Nez, France. Her goal was not only to swim the channel, but to do it in record time. She had tried once before and failed, but this time, after fourteen hours and thirty-one minutes of battling weather, strong currents, cold, and fatigue, she succeeded. Upon setting foot on the English shore at Dover, she not only became the first woman to cross the channel, but she broke the previous time record by almost two hours. Ederle's own record stood until 1950, when Florence Chadwick set a new time of thirteen hours, twenty minutes.
Ederle, a native of New York City, displayed talent for swimming at an early age. In 1919, at the age of twelve, she set a new 800-meter freestyle record. At fifteen, after she won a three-mile race across New York Bay against several more experienced swimmers, she decided to concentrate on long-distance swimming. Between 1921 and 1925, she held twenty-nine national and world records, achieving eighteen of them in 1924 alone.
Ederle joined the United States women's swim team at the VIIIth Olympiad in Paris in 1924. It was only the second time that American women athletes had been allowed, in the words of a New York Times article, to "take part in any [Olympic] activity in which they could not wear long skirts." Ederle performed well, winning bronze medals in the 100- and 400-meter freestyle, and a gold medal as a member of the freestyle relay team. The following year, she turned professional, and after successfully crossing the English Channel in 1926, earned international recognition and a ticker-tape parade in New York attended by two million people. Ederle spent the next several years touring North America and Europe, giving swimming demonstrations in a giant, collapsible swimming tank. However, her hearing had been severely impaired by her Channel swim and she eventually found a satisfying career teaching swimming to deaf children.
Today the record for the fastest channel crossing is held by American Chad Hundeby, with a time of seven hours and seventeen minutes, set in 1994. While the channel is only twenty-one miles across at its narrowest point, swimmers must actually travel much longer distances because of winds and strong currents. Ederle, for example, swam a distance of about thirty-five miles. For more information on attempts to swim the English Channel, see Don Kerr's article on the subject in the April 1996 Smithsonian magazine.
Sonja Henie (1912-1969)

Morgan Lithography Company (circa 1945)
Color lithograph, 1945, S/NPG.80.61
National Portrait Gallery,
Smithsonian Institution, Washington, D.C.

Sonja Henie was figure skating's first international superstar. Her record of three Olympic gold medals and ten consecutive world championships is impressive, but her most important accomplishment was the fusion of grace, strength, and precision emulated by today's figure skaters. Previously, free-skating routines had been characterized by disjointed sets of technical maneuvers. Henie, who had studied ballet, captivated audiences by unifying her routines into flowing, dance-like performances.
Henie was born in Oslo, Norway, to parents who encouraged her participation in skiing, ballet, and skating. Under the tutelage of coaches and family members, she devoted an increasing amount of her time to figure skating. In 1923, at the age of eleven, she took first prize at the Norwegian national championship. Four years later, she won the world amateur figure skating championship, a title she held for ten years. In addition, she won gold medals at three Olympic winter games, in 1928, 1932, and 1936. By the time Henie turned professional in 1936, she had gained a worldwide following and had made a lasting impact on both the popularity and the technique of figure skating.
After retiring from amateur competition, Henie successfully parlayed her fame as a skater into a career as an actress and exhibition skater. Her first film, One in a Million (1936), enjoyed a warm reception and launched Henie on a path to Hollywood stardom. In 1939, only Shirley Temple and Clark Gable outranked her in screen popularity. Meanwhile, she also continued to perform before live audiences, and at times was co-producer and a featured performer of the Hollywood Ice Revue. After two marriages to U.S. citizens, Henie became an American citizen in 1941. Eventually she retired with her third husband, a Norwegian businessman and art patron, back to Norway to found the Sonja Henie-Niels Onstad Art Center near Oslo in 1968. The next year, at age fifty-seven, Henie died of leukemia.
Roberto Clemente (1934-1972)

Charles T. Harris (born 1908)
Photograph, 1960, NPG.93.392
National Portrait Gallery,
Smithsonian Institution, Washington, D.C.

In baseball annals, the Puerto Rican-born Roberto Clemente is regarded by many as the finest all-around player of his era. He was one of the most widely idolized figures in the American Latino community.
As a boy in Puerto Rico, Clemente displayed both a love and an aptitude for the game of baseball. The Brooklyn Dodgers signed him in 1953, and placed him on a farm team in Montreal. A year later, he was drafted by the Pittsburgh Pirates, where he remained for the rest of his career. Clemente's baseball achievements were numerous. As an outfielder, he made stunning catches and fielded balls with lightning speed. He won twelve Gold Glove awards, given annually to the best league defensive player at each position, and he made fourteen All-Star appearances. As a batter, he hit above .300 for thirteen seasons, and he topped the National League's batting list four times. In 1960 and 1971, he led the Pirates to world championships, and in 1966, with 29 home runs, a batting average of .314, and 119 RBIs to his credit, he claimed his league's Most Valuable Player award. A baseball veteran once called him "a one-man team."
During his eighteenth major-league season in 1972, Clemente was still at the top of his form. In his last game that year, he became the eleventh major league player to accumulate 3,000 career hits. However, tragedy struck that New Year's Eve. Long dedicated to supporting Latin American philanthropies, he died in a plane crash while on his way to Managua, Nicaragua, to help in relief operations following a severe earthquake. In Puerto Rico, which had been the beneficiary of so much of his unstinting generosity, Clemente's death was deeply mourned. At his funeral, the Puerto Rican governor, Rafael Hernandez Colon, declared, "Our people have lost one of their great glories." Not long afterward, baseball paid its own tribute to Clemente by waiving the post-career five-year waiting period to induct Clemente into its Hall of Fame.
---

LINKS

---
General
Interactive Internet Sports
Olympics through time
James Francis ("Jim") Thorpe
Official Jim Thorpe site
National Football League
Helen Wills Moody
International Tennis Hall of Fame
U.S. Open, United States Tennis Association
Official Wimbledon site
Gertrude Ederle
Sports: Breaking Borders, Breaking Records
Swimming World Magazine
United States Swimming
Sonja Henie
Skate.org
U.S. Figure Skating Association
Roberto Clemente
Sporting News
Baseball Hall of Fame