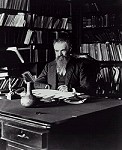 This blanket was collected by John Wesley Powell (1834–1902) and O.D. Wheeler in northeastern Arizona around 1876.
Powell began his career as a professional scientist in 1858 when he became a curator of zoology at the Illinois State Natural History Society. With the outbreak of the Civil War in 1861, he enlisted in the Union army and lost his right forearm at the Battle of Shiloh in 1865. Following the war, he led a series of historic exploring expeditions to the American West, including the first survey of the Grand Canyon in 1871. His book, Explorations of the Colorado River and Its Tributaries, is now one of the classics of exploration literature.
In 1879, Powell was appointed the first director of the Smithsonian Institution's Bureau of American Ethnology, a position he held until his death. He also served as director of the U.S. Geological Survey between 1881 and 1894. Apart from his exploring and administrative activities, Powell published numerous essays and reports about the West and its indigenous residents. His extensive anthropological and natural science collections are housed today in the Smithsonian Institution.
Top: John Wesley Powell in his office in the Adams Building on F Street, N.W., in Washington, D.C. (the building is still present). Photograph undated but probably made in the 1890s. Photographer: DeLancey Gill. National Anthropological Archives, Smithsonian Institution, Portraits 64-a-13-a