Click on the icon to dowload this lesson plan
and all student pages in Adobe Acrobat format (176K).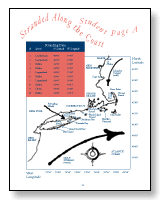 All lesson plans in the Ocean Planet online curriculum kit--including student activity pages, step by step procedures, and teacher answer keys--are available in the Adobe Acrobat format.
That means Ocean Planet appears on your screen exactly as it does in the printed version--no matter what type of computer (i.e. Macintosh, DOS, Windows, Unix) you have. You can also print individual lesson plans and student activity pages to any printer for use in your classroom!
All you need to view and print these files is the free Adobe Acrobat Reader software which is available from Adobe Systems Incorporated.

[ Essay | Procedure | Student Pages | Resources | Next Lesson ]
educate@si.edu