Sea Secrets
Sea Connections
Ocean Market
Pollution Solution
Stranded Along the Coast
Reflections on the Sea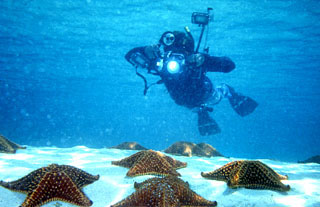 After centuries of seafaring, we're only now beginning to plumb the workings of our watery planet. The deeper we go, the clearer it becomes that no matter who we are or where we live, we all have a hand – and a stake – in what happens in the seas.

The Smithsonian Institution created the exhibition Ocean Planet to share with the public what recent research has revealed about the oceans and to encourage ocean conservation. This online booklet of lessons and activities adapts several themes of the exhibition for use in the middle and high school classroom.

Ocean Planet has six lesson plans. "Sea Secrets" explores ocean geography; "Sea Connections" looks at the plants and animals that live in different marine ecosystems. "Ocean Market" identifies and values many products of the seas. "Pollution Solution" examines the effects of an environmental crisis. "Stranded Along the Coast" explores both natural and human causes of animal strandings. Finally, "Reflections on the Sea" explores the influence of oceans on language and literature.

Each of the the six lesson plans has the same elements: background information; statement of learning objectives; list of required materials; step-by-step procedures; student handouts (in Adobe Acrobat format); and a list of additional resources, including connections to the online version of the Ocean Planet exhibition.

The instructional approaches in Ocean Planet are interdisciplinary. Lesson plans will work in different classes, from biology and mathematics to geography and social studies. Many activities employ students' writing skills.

We hope that the lessons in this online booklet may guide students to better understand the diversity and importance of the seas.